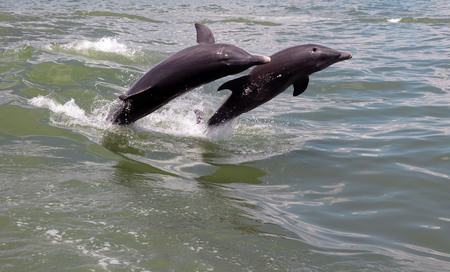 Cromarty Firth
Dolphin Watching in the Cromarty Firth
Residents and visitors of Inverness can enjoy watching dolphins very nearby. The Cromarty Firth which is just an hour drive from Inverness is one of the best places to observe these beautiful animals in their natural habitat.
There are several dolphin boat trip operators that will take you to the areas where dolphins are most often seen but it is also possible to observe them from land. Unfortunately, there is no way to predict where and when they will show up but you won't regret taking a boat trip which is an experience of its own.
About the Cromarty Firth
The Cromarty Firth is an arm of the Moray Firth. The entrance is "guarded" by the so-called Sutors, two headlands which are popular spots for watching dolphins due their height offering a spectacular view of both the Cromarty Firth and the Moray Firth. It is a good idea, however, to take binoculars.
The firth stretches 19 miles inland and with the exception of the area between the Cromarty Bay and Nigg Bay, it is in average 1 mile wide. It used to serve as a base for the Royal Navy and during the Second World War, as a base for the Catalina and Sunderland flying boats. Today, however, it is home to leisure yachts, golfmania.co.uk, dolphin tour operators and fishing boats but it is also a Special Protection Area.
Before Going on a Dolphin Cruise
As mentioned earlier, there are several boat trip operators (Such as cheap cruises (www.discountcruises.co.uk)) in the Cromarty Firth that offer dolphin cruises. It is recommended to book in advance, especially during the high season and holiday periods. The area around Inverness is one of the premier dolphin watching spots in this part of Scotland and as a result, the predominantly small operators are booked out very quickly during the peak season.
The routes, duration of the trips and on-boat services vary greatly from one operator to another, which is why it is worth to inform yourself about different options before making any reservations. As mentioned earlier, there is no guarantee that you will actually see the dolphins but the local tour operators will take you to the places where they are most likely to be seen. If you don't see the dolphins during your boat trip or all the boats are booked out, you can also go to the Sutors and observe them from land.