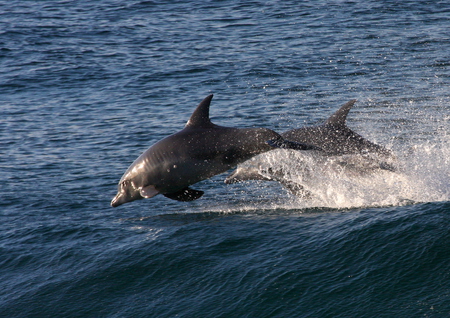 Moray Firth
Dolphin Watching in the Moray Firth
The Moray Firth isn't only one of the best dolphin watching sites near Inverness but one of the best places to observe dolphins in Britain. Many dolphin tour operators in Inverness and the nearby coastal towns offer dolphin watching cruises, enabling you not only to observe dolphins but a wealth of other marine animals as well including whales, otters, seals and many others. Then there are also the wildlife centres at North Kessock and Spey Bay, enabling visitors to both see the dolphins in their natural habitat and learn more about the dolphin population in the Moray Firth.
About the Moray Firth
The Moray Firth is an inlet on the North Sea, stretching from Inverness in the south to the Duncansby Head and Fraserburgh in the north. It is traditionally divided into two inlets – the Inner Moray Firth (sometimes referred to as the Firth of Inverness) and the Outer Moray Firth which is closer to the North Sea.
As mentioned earlier, the Moray Firth is one of the best places in the UK for dolphin watching as well as to observe whales, seals and other sea creatures. The best way to observe the Moray dolphins is to take a boat trip but it is also worth to remember that there are two visitor centres not far from Inverness where it is also possible to see dolphins:
Dolphin and Seal Centre, North Kessock. Operated by the Whale and Dolphin Conservation Society, the Dolphin and Seal Centre is located just outside the village of North Kessok and is one of Europe's premier spots to observe both whales and dolphins in the wild. Keep in mind, however, that the Centre is open only from 1st June to the end of September. The admission is free.

Scottish Dolphin Centre, Spey Bay. Also very nearby Inverness is the Scottish Dolphin Centre which is run by the Whale and Dolphin Conservation Society as well and enables you to observe these majestic sea creatures. But it also enables you to learn more about the Society's work and contribution to conservation of natural habitat for dolphins, whales and other marine wildlife species. The admission is free.
No matter if you decide to take a boat trip in the Moray Firth or choose to stay on land, please remember that there is no guarantee that you will actually see the dolphins. So be patient and while waiting for them to show up, enjoy watching a wide range of other marine animals in their natural habitat.