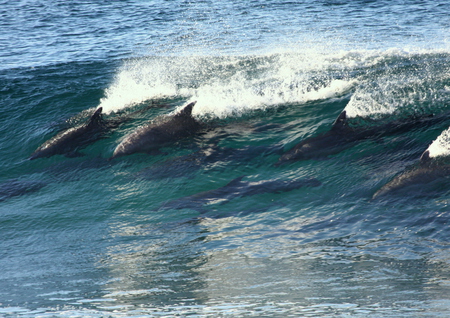 Tips on Dolphin Watching From Land and Sea
Are you planning to visit Inverness? If so, you mustn't miss the opportunity to observe dolphins in the wild on some of the best spots in the UK. In order to improve your chances for spotting dolphins from land or/and sea and make the experience as enjoyable as possible, you are advised to follow the tips below.
Advice on Dolphin Watching From Land
Know where to go. There are several places near Inverness that enable you to see dolphins really up-close if you get lucky and of course, if you know which are the best spots for dolphin watching. So if you don't know where to go, you have come to the right address. We have covered all the premier spots just a short drive from the unofficial capital of the Highlands.

Know when to go. Dolphins can be observed in the waters of Moray Firth throughout the year. However, there is a lot greater chance to see them from early spring to late September and when the sea conditions are just right. Remember that they are wild animals and that they don't keep track of the time. In order to be at the right place at the right time, it is best to ask the locals for advice.

Dress comfortably and above all, in layers. Weather in Scotland can change very rapidly. As a result, it can quickly get either very cold or very hot. Since it may take some time to spot dolphins, you are therefore recommended to dress in layers to be able to dress up or down if necessary.

Don't forget your camera. And be sure that you have enough memory. Also a good idea is to take binoculars to be able to admire these beautiful animals from up-close.
Advice on Dolphin Boat Tour
In addition to making sure that you get a good value for your money, you are also recommended to make sure to choose an experienced boat tour operator who knows all the best spots to observe dolphins. But since all promise to take you to the best places, it is a good idea to read some reviews and testimonials before making any reservations. Lastly, make sure that the operator is accredited with the Dolphin Space Programme because it means they follow sustainable wildlife tourism practices or in other words, make sure that their boats and people on the boat aren't disturbing the animals.